Hearing Enhancer for Hunting

Deer AmpPods
$699.00 / Pair Why the price?
TETRA devices use a similar chip and digital noise reduction that you would pay $5,000 for in hearing aids. TETRA devices give you a premium hearing experience, but feel like wearing nothing at all.
Advanced hearing devices optimized to enhance the most critical sounds for the deer hunter to improve hunting success.
30 Day Guarantee
You'll love your new TETRA devices or you'll get your money back. Try them for 30 days, risk free.
30 Day Guarantee
You'll love your new TETRA devices or you'll get your money back. Try them for 30 days, risk free.
Hearing is one of the hunter's most precious assets. Detecting and locating movement of that animal can mean the difference in filling your tag or going home empty-handed. TETRA AmpPods were designed by hunters for hunters, allowing you to be connected and monitor your environment a full 360, rather than just where your eyes are looking. TETRA scientists analyzed the acoustical signatures of deer vocalizations and sounds of movement, and using our patent-pending Specialized Target Optimization™ (STO) developed an algorithm to specifically enhance those sounds. Years of hunting and noise exposure can cause hearing loss and take away our edge in the woods. Hunt 360 and get your edge back with TETRA Deer AmpPods.
Easy to use:
Specifically enhances deer sounds like:

Footsteps in leaves
Grunts and bleats
Twigs snapping

Accurately pinpoints direction and distance of sounds
ClearComm setting for everyday wear and conversation
Reduce gun blasts to safe decibel levels for firearms hunting

Superior clarity and sound quality rating versus competitor products
Small and comfortable for all-day wear
Powered by standard hearing aid batteries (size 10) which are widely available at retailers
Your purchase includes:
One pair (right and left ear) of Deer AmpPods
Waterproof storage case
Pocket-size soft case
10-pack of batteries (size 10)
Cleaning tool

Our hearing devices feature patent-pending Specialized Target Optimization™ (STO). STO is the world's first hearing technology that isolates and enhances the exact frequencies needed to improve hearing for your specific hunting pursuit. STO accentuates grunts, bleats and those cautious footsteps of deer while keeping other sounds at normal, natural levels.
TETRA AmpPods are premium hearing enhancement devices. To reduce the impact of loud noise, AmpPods use AlphaShield Compression technology to shut off instantly with a gunshot or other loud sound. AmpPods suppress the volume of the gunshot significantly compared to an open ear. However, because AmpPods do not create a total and tight seal in the ear, they are not designed as hearing protection for activities with high amounts of shooting.
ClearComm™ is our proprietary algorithm that accentuates human speech while minimizing noises and distractions that occur outside of the frequency range of human voices. ClearComm is useful for better understanding speech and talking with shooting partners, hearing speech on the range, as well as in other daily activities that require better hearing.
60-Level
90-Level
Multi-pursuit
AlphaShield Compression
Specialized Target Optimization
Personalized Hearing Program
Voice Prompts
Wind Noise Cancellation
ClearComm Program
Digital Signal Processing (DSP)
12 Channel
DSP
16 Channel
DSP
16 Channel
DSP
Noise Reduction
Basic
Multi-channel
Adaptive
Multi-channel
Adaptive
Feedback Cancellation
3G

4G

4G

Unique Pursuit Programs
Single
Pursuit
Single
Pursuit
Multiple
Pursuits
How Humans (and Animals) Localize Sound
Sound Localization: the ability to identify the origin, direction and distance of sound. Hunters, and the animals we hunt, are designed with two ears, so brains gather different information in each ear with slightly different clues. Because ears are on opposite sides of the head, the sounds heard by either ear will vary in timing, volume, and frequency. These differences are the clues your brain uses to decode a sound's location.
Let's say sound is coming from the left:
Differences in Timing: That sound hits the left ear milliseconds before hitting the right ear.
Differences in Loudness: That sound will be slightly louder in the left ear than the right ear.
Differences in Frequency: Because the head blocks some frequencies, the left ear will get all the frequencies, while the right ear gets less frequency information.
At TETRA, our hearing scientists have designed AmpPod technology to equalize and maximize your hearing clues in both ears, so you can easily determine the location, direction and distance of game.
30 Day Guarantee
You'll love your new TETRA devices or you'll get your money back. Try them for 30 days, risk free.
Customer Reviews
Customer Reviews
10/16/2020
james h.
United States
better than prescripton ones that cost 6000.00 dollars
i previously had 6000.00 dollar pair of hearing aids. i couldn't afford to replace them when i retired. these dear ampPods are every bit as good as those, plus they give an advantage in the woods. THANKS
08/04/2020
Ralph K.
United States
Hear better than a teenager!
I recently received my Deer Amppods 90-series. I have been testing them for several days where undesirable background noise is present: Wind, traffic noise, aircraft noise, even distant factory noise. They mute those undesirable sounds. I am impressed! I have some hearing loss and have lost the sounds of my own feet while walking in the field. No doubt I have missed the sound of game walking behind my stand. When wearing the Amppods I clearly hear the subtle sounds of my feet again. I can hear small twigs snapping from incredible distances. I had my buddy make some deer and moose sounds while I walked away. We couldn't believe how far away I could hear those sounds with the Amppods even with undesirable background noise present. These are better than I hoped for, I can't wait for season to start!
05/11/2020
John S.
United States
Absolutely love my Deer AmpPods!
I used my Deer AmpPods this past fall/winter for bow, gun and muzzleloader seasons in Wisconsin and they greatly increase what I'm able to hear in the woods! I've used the Walker products in the past and Tetra is far, far superior! I know they are a bit on the pricey side but well worth the money to be able enhance your ability to hear. We all invested a lot of time and money to be able to hunt so anything I can do to increase may chances when I'm in the woods is a given for me. Actually used my Deer AmpPods for Turkey hunting this spring and greatly benefited by the enhanced hearing. In fact, I am going to upgrade and add the Turkey program for an even better experience next Spring! Overall any hunter that needs to enhance and protect their hearing in the outdoors should use the Tetra product I highly recommend it! John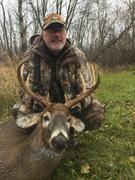 Great product
only issue we had was your ear gets a little soar on the bottom because there is a square edge that the invisible cord that holds them in connects and it gets a little uncomfortable after hours of use but other than that they are really amazing.