Electronic Hearing Protection

Wingshooter AlphaShield
$1,399.00 / Pair Why the price?
TETRA Hearing™ devices use a similar chip and digital noise reduction that you would pay $5,000 for in hearing aids. TETRA devices give you a premium hearing experience, but feel like wearing nothing at all.
QUESTIONS? Our team has answers. Give our team a Call at 855-432-7468 or message us at info@tetrahearing
Advanced hearing enhancement and protection devices optimized for waterfowl, upland and clay shooting. Includes our 90 level technology - customized for your specific hearing levels; wind noise cancellation.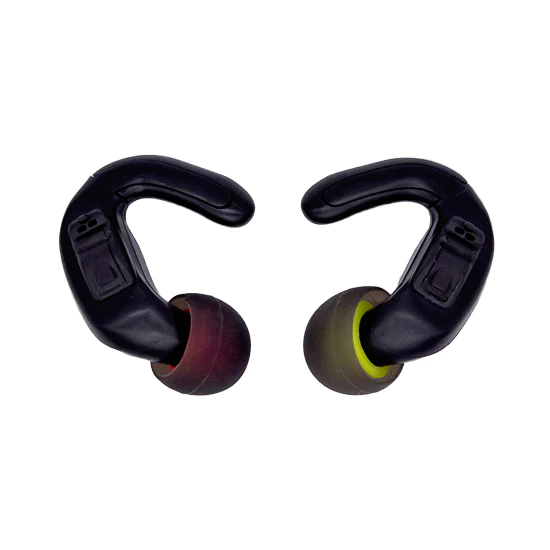 For years, manufacturers have expected hunters to take a "one-device-fits-all" approach to hearing protection and enhancement. As hunters ourselves, we know that doesn't work. No two hunts are alike, and your hearing protection shouldn't be, either. Whether your passion is calling in mallards, flushing upland birds, or smashing clay targets, TETRA is dedicated to protecting your hearing, while helping you "Hear The Hunt." 
At TETRA, we used our patent-pending
Specialized Target Optimization
™ (STO) to isolate
the exact frequencies
associated with  a variety of pursuits and created custom programs to enhance the sounds you most need/want to hear - like voices, duck calls, and flushing birds - and protect you from those you don't,
like loud gun shots
. Now, with our wingshooting device, you can get
custom programming in one convenient device, and changing between programs is as easy as one simple tap. 
TETRA isn't just hearing protection, it's hearing perfection.


Easy to use:
Extremely comfortable to wear all day
Change programs with push of a button
Battery operated
Contains:
Wingshooter AlphaShield right and left
3 pursuit/4 total programs (Waterfowl, Waterfowl Boost, Upland, and Range/Clay)
Waterproof hard carrying case
Pack of size 10 batteries
Cleaning tool
2 smaller pocket-sized soft cases
Left and right silicone tips (small/medium/large)
Left and right medical-grade memory-foam tips (small/medium/large)
Our hearing devices feature patent-pending Specialized Target Optimization™ (STO). STO is the world's first hearing technology that isolates and enhances the exact frequencies needed to improve hearing for your specific hunting environment. With STO, voices are clear, calling sounds natural, and the sounds of the game you are pursuing are all easily audible.
Tetra Wings Shooter
4 Pursuit-based programs in one device
TETRA products instantly shut down and instantly recover for sudden loud noises, like gunshots, providing the wearer full protection at the very moment it's needed. For more sustained loud inputs, like loud calling, AlphaShield Compression® limits the overall output to a safe level, then returns to normal amplification once the loud input has stopped. Never miss a sound you want to hear, and protect your hearing for life.
ClearComm™ is our proprietary algorithm that accentuates human speech while minimizing noises and distractions that occur outside of the frequency range of human voices. ClearComm is useful for better understanding speech and whispers of hunting partners, hearing speech on the range, as well as in other daily activities that require better hearing.
60-Level
75-Level
Amp Series Only
90-Level
Multi-pursuit
AlphaShield Compression
Specialized Target Optimization
Personalized Hearing Program
Voice Prompts
Wind Noise Cancellation
Adjustable Volume Levels

*

*

ClearComm Program
Weather-Resistant Nanocoating
Digital Signal Processing (DSP)
12 Channel
DSP
14 Channel
DSP
16 Channel
DSP
16 Channel
DSP
Noise Reduction
Basic
Advanced
Multi-channel
Adaptive
Multi-channel
Adaptive
Feedback Cancellation
3G
4G

5G

5G

Unique Pursuit Programs
Single
Pursuit
Single
Pursuit
Single
Pursuit
Multiple
Pursuits
*One volume setting with each pursuit, based on your hearing test results.
Hearing and the Brain
Research at Johns Hopkins University suggests that more hearing loss increases the risk of dementia. In one study, people with hearing loss were 24% more likely to have Alzheimer's.* 
With hearing loss, our brains have to work much harder to make sense of what is being said, and even harder to filter out speech from unwanted background noise. Simply trying to understand conversations requires more mental energy and concentration. 
If basic conversations take up most of our mental energy, there is less opportunity for our brains to sort out and store other information. 
At TETRA, our goal is to minimize hearing loss for hunters and shooters, because research shows if we reduce hearing loss, we can also reduce the chance of getting dementia and Alzheimer's.
*Source: Lin, F. et al. (2011), Hearing loss and incident dementia. Arch Neurol, 68(2):214-220.
30 Day Guarantee
You'll love your new TETRA Hearing™ devices or you'll get your money back. Try them for 30 days, risk free.