Tom Beckbe Upland Strap Vest
$215.00
Our friends at Tom Beckbe created their Upland 'STRAP VEST' from their infamous durable waxed shelter cloth. The fully-lined front pouches and rear game bag are supported with adjustable shoulder straps made from no-stretch, 100% cotton webbing treated to dry quickly and prevent mildew. The open-back design offers breathability and makes cleaning the game pouch a breeze. The rear gamebag has a center drain eyelet and two side pouches for water bottles. The front pouches have a single, gusseted front pocket, secure reverse snap pocket, and pocket flap that stows neatly into the front pouch when the action picks up. The side straps are adjustable for a perfect fit. The front waistband adjusts and cinches easily with a Fidlock V-Buckle.
Front pocket pouch: 7.5" W x 9" H with a 1.5" gusset
Rear game bag: 14" W x 11" H x 6" D
Overall shoulder strap length: 30"
TETRA Hearing™ devices use a similar chip and digital noise reduction that you would pay $5,000 for in hearing aids. TETRA devices give you a premium hearing experience, but feel like wearing nothing at all.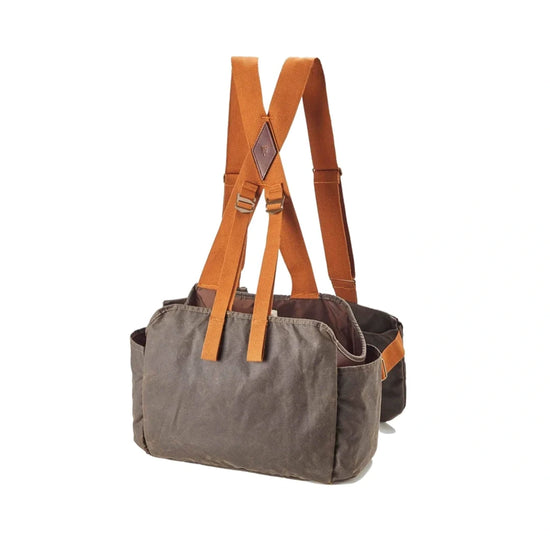 30 Day Guarantee
You'll love your new TETRA Hearing™ devices or you'll get your money back. Try them for 30 days, risk free.