Elk Hunting Hearing Enhancer

Elk AmpPods
$849.00 / Pair Why the price?
TETRA Hearing™ devices use a similar chip and digital noise reduction that you would pay $5,000 for in hearing aids. TETRA devices give you a premium hearing experience, but feel like wearing nothing at all.
QUESTIONS? Our team has answers. Give our team a Call at 855-432-7468 or message us at info@tetrahearing
Advanced hearing devices optimized to enhance the most critical sounds for the elk hunter. 90 device - customized for your specific hearing levels. 60 device - for standard hearing only.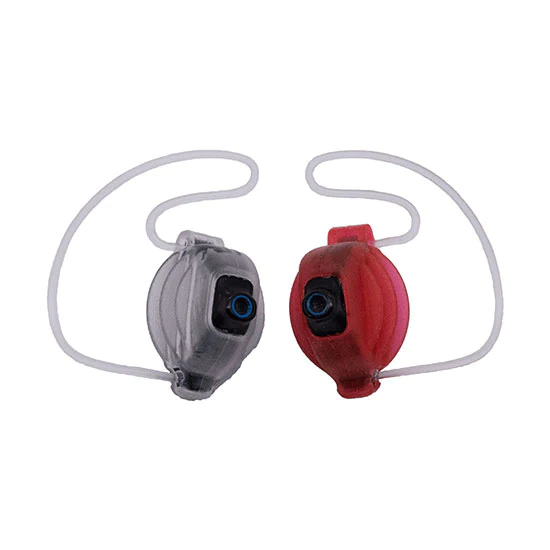 Hearing is one of the elk hunter's most precious assets. Detecting and locating that bugle can mean the difference in filling your tag or going home empty-handed. TETRA AmpPods were designed by hunters for hunters. TETRA scientists analyzed the acoustical signatures of elk vocalizations, and using our patent-pending Specialized Target Optimization™ (STO) developed an algorithm to specifically enhance those sounds, improving detection, distance judgement and determining direction. Years of hunting and noise exposure can cause hearing loss and take away our edge in the woods. Get your edge back with TETRA AmpPods.
Hunting is hard...
Hearing shouldn't be.
Easy to use:
Extremely comfortable to wear all day
Change programs with a tap of your finger
Battery operated
Contains:
Elk AmpPods right and left
Water-resistant, soft-sided carrying case w/ 60 le
Pocket-size soft case
10-pack of batteries (size 10)
Cleaning tool
Our hearing devices feature patent pending Specialized Target Optimization™ (STO). STO is the world's first hearing technology that isolates and enhances the exact frequencies needed to improve hearing for your specific hunting environment. STO accentuates those bugles and barks, while keeping other sounds at clear, natural levels.
TETRA AmpPods are premium hearing enhancement devices. To reduce the impact of loud noise, AmpPods use AlphaShield Compression technology to shut off instantly with a gunshot or other loud sound. AmpPods suppress the volume of the gunshot significantly compared to an open ear. However, because AmpPods do not create a total and tight seal in the ear, they are not designed as hearing protection devices.
ClearComm™ is our proprietary algorithm that accentuates human speech while minimizing noises and distractions that occur outside of the frequency range of human voices. ClearComm is useful for better understanding speech and talking with shooting partners, hearing speech on the range, as well as in other daily activities that require better hearing.
60-Level
75-Level
Amp Series Only
90-Level
Multi-pursuit
AlphaShield Compression
Specialized Target Optimization
Personalized Hearing Program
Voice Prompts
Wind Noise Cancellation
Adjustable Volume Levels

*

*

ClearComm Program
Weather-Resistant Nanocoating
Digital Signal Processing (DSP)
12 Channel
DSP
14 Channel
DSP
16 Channel
DSP
16 Channel
DSP
Noise Reduction
Basic
Advanced
Multi-channel
Adaptive
Multi-channel
Adaptive
Feedback Cancellation
3G
4G

5G

5G

Unique Pursuit Programs
Single
Pursuit
Single
Pursuit
Single
Pursuit
Multiple
Pursuits
*One volume setting with each pursuit, based on your hearing test results.
How We Localize Sound
Hunters, and the animals we hunt, are designed with two ears, so brains gather different information in each ear with slightly different clues. Because ears are on opposite sides of the head, the sounds heard by either ear will vary in timing, volume, and frequency. These differences are the clues your brain uses to decode a sound's location.
Let's say sound is coming from the left:
Variations in Timing: That sound hits the left ear milliseconds before hitting the right ear.
Variations in Loudness: That sound will be slightly louder in the left ear than the right ear.
Variations in Frequency: Because the head blocks some frequencies, the left ear will get all the frequencies, while the right ear gets less frequency information.
At TETRA, our hearing scientists have designed AmpPod technology to maximize your hearing clues in both ears.
30 Day Guarantee
You'll love your new TETRA Hearing™ devices or you'll get your money back. Try them for 30 days, risk free.
Customer Reviews
Customer Reviews
09/24/2021
ROBERT M.

United States
elkampods
Very nice to hear what I have been missing. I had about a month after buying these before elk season to get use to them. clear choice adjusted to my loss and they are great in restaurants in the car in the woods all good. We had over a dozen elk bugling while we were there and I tried elk and elk magnum and clear choice cant say my better hearing beat the young guys but I certainly kept up and my direction was equal. It was great to have my hearing back. So much so that I still wear them everywhere. Twice I was in the middle of herds because I knew exactly where they were I could actually hear the cows breathing. The amp pods made me more aware of my own sounds so I was much quieter as a result. They are fairly easy to bump into a different setting but two taps and you're into another. that's part of why I was using all the different settings while hunting. overall a very positive experience. Bob
09/19/2021
Rodney B.

United States
no instuctions????
Was a little disappointed to find I had no printed instructions with my $1000 purchase. I received my package just as I was pulling out of the driveway heading to cabin. No cell service and no internet at the cabin. Once I got back to town and figured out how to get them working, they do seem to be helping a bit. Time will tell.
10/13/2020
Dan N.

United States
Elk AmpPods
Ordered these halfway through the Colorado elk archery season because I procrastinated! I am 52 years old and have trouble with what direction the bugle comes from. These things work awesome! Can here bugles and everything else and can tell exactly where it's coming from! Total game changer for me! Thanks for getting them to me in a rush so I was able to finish out the season with success!!